UNITED STATES: Starbucks fired a barista for writing "pig" on a cup meant for police officers in Kiefer, Oklahoma on Thanksgiving Day.
An Oklahoma police officer working on Thanksgiving made a Starbucks run for emergency dispatchers to thank them for working during the holiday.
When he got his order, he said, he saw the word "PIG" printed on a cup's label.
After which Chief O'Mara called the Starbucks, in Glenpool, Okla, the manager offered to reprint the cups, which the chief said was an insufficient apology, the station reported.
A Chief Officer from Kiefer police station posted the picture of his coffee cups in a since-removed Facebook post and mentioned how utterly disrespected he felt with this.
"This is what he gets for being nice," O'Mara wrote. "What irks me is the absolute and total disrespect for a police officer who, instead of being home with family and enjoying a meal and a football game, is patrolling his little town."
Starbucks has since apologized issuing a statement saying it will be working with the Kiefer Police Department to turn the "regrettable incident" into an "opportunity to leverage our shared platforms to promote greater civility."
In the coming days, Starbucks will be meeting with the Kiefer Police Department to begin discussing ways to work together, including a jointly hosted Coffee with a Cop event at Starbucks where local law enforcement can meet with baristas and members of the community to discuss the critical role dispatchers and police offers play in keeping our communities safe. Together with law enforcement agencies, Starbucks will jointly look for educational opportunities for our partners across the United States to promote better understanding and respect.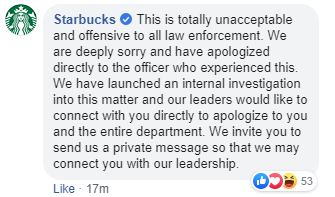 But there is a twist in the tale or rather a drama which unfolded on Twitter.
O'Mara's alleged daughter took the opportunity to speak out against her father, who she says she hasn't spoken to in years.
Clearly the family issues are right out now in public.
The girl took to Twitter, to share the report of the officer getting cups with label "PIG" and in her comment wrote, she would like to thank them along with her reasons.
The tweet has been going viral and has garnered more than 2.5 lakh likes.
Check Daughter's Tweet About Her Father:
for the record, my father has 0 business being a police officer. he was blatantly, proudly racist when i was a kid. said things i would never repeat. he treats women like dogs, including his own daughter. oink oink 🐖

— o'mara (@MissOMara) November 30, 2019
Get Breaking news and Latest News from India and around the world on GlobalPunjabTV.net.